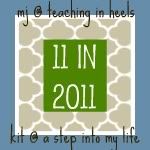 Today's prompt is my favorite workout tips. This is something I really need to take to heart. ...But here it goes!!
Exercise in the morning, to boost your metabolism for the day.

Wear appropriate clothing. This usually doesn't include cotton, because then your clothing will absorb and retain moisture (a.k.a. sweat). Check out companies such as Under Armour, especially if you're a runner.

For bigger muscles, you should do less reps with heavier weight. For nice, long, lean muscles, do more reps with a small amount of weight.

Make a pact with yourself to exercise everyday. If you just don't feel up to it, force yourself to go for at least 10 minutes. I can almost promise you that then you'll be motivated to finish your workout.

This is something I learned in my anatomy class. Let's say you're a runner and you can run 5 miles no problem. No shortness of breath or anything. Try doing 5 miles at a higher altitude where there is less oxygen. Doing this can really strengthen your lungs.

Eat carbohydrates before your workout to increase energy. Eat protein afterward to repair your injured muscles.
Does anyone else have any great work out tips to share? I could use some inspiration!! && I can post them on Skinny Diva on Wednesday and give you and your blog credit! ;-)
Monday Blog Hops