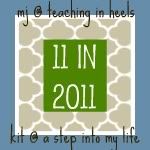 Best Organization Tips
I'm not the most organized person, that is for sure. In fact, I'm pretty good at keeping things a mess. Go me! But there are a couple things I have learned along the way….
No. 1: If you or a member of your family is constantly putting something in the same place, then make that place that item's new designated area. By this, I mean… if your kids area always throwing their book bags by the front door, and maybe that's where their book bags should go. Create a space for them.
No. 2: Create areas that you're excited about. If you aren't turned on by the area, you're obviously going to avoid it and things aren't going to make their way there.
& That's about all I know about organizing… Hope it helped!! Haha…

p.s. New Year, New Friends is still going on... don't forget to link up!!