I Have an Awesome Blog!
So yesterday, I posted that think to Never Growing Up's blog on the natural hair lightener, and I have now been added to her Awesome Blogs list!! Head on over there to check out my button and to look around her blog! I think you'll really enjoy your time there!!
I'm going out this weekend, for the first time in forever...
...And I need help on my outfit.
Awhile ago, our local Deb's store was going out of business, so I stopped by. I picked up this super cute Royal Blue top with sequins all over it. It was only like $2, so why not buy it? I liked it and who knew if I would ever have an excuse to wear it.
Well, I think this weekend would be a good reason to wear it! Except, what do I wear with it? Any suggestions? What accessories do I wear? How do I do my makeup? I never thought I would be this overwhelmed by picking out an outfit! Especially because I've always been pretty good at this. HELP! :'(
I'm crocheting my friend a blanket :)
I worked the morning shift yesterday and it had been forever since I had seen some of the housekeepers at the hotel (I left for awhile to get a job at another hotel.. for about 6 months. And then I've been working 3rd shift since I have come back). My favorite, Connie, was talking to me. I was drinking my coffee and she's all "You drink coffee now?!" and then I was working on this blanket and she's all "You crochet?!", and I was just like "Yeah, I think I managed to age 50 years in the matter of a day". Hahaha...
Anyways, I'm making this blanket for my friend. I think her intention is to put it on her bed. I taught myself how to crochet, and I've done a couple hats, some scarves, and a baby blanket. But I need help with this blanket. How wide do I make it? And what is the best stitch to use, so that it doesn't take me 3 years to make it? I know on the baby blanket, I did a border around the edges.. is it a good idea to do one on this blanket too?
Tuesday Bloghops!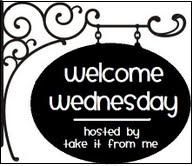 Much Love!!! xoxoxo