Hey Everyone!! Just joined the Monday Blog Hops! If you're new to the site, Its a site that is totally dedicated to Natural Beauty... homemade and commercial. And I'm working on some really great things right now... including an awesome 10-week special that I call
CSI: Natural Beauty Edition
. The first one is going to be on Acne and from what I have written so far, I think that if you have acne, you will really enjoy this.
I hope you enjoy my blog!!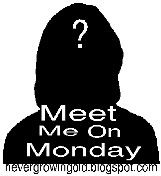 Questions:
1. What one food could you eat every single day?
2. Do you wear glasses or contacts?
3. What kind of cell phone do you have?
4. What did you have for dinner last night?
5. What is your favorite candy?
---------------------------------------
1. Pizza!! Specifially, I would say, Tomato & Mushroom. Yummmyyy!
2. Nope, neither. But that does remind me that I need to go get my eyes checked. I think I need reading glasses...
3. I have an EnV3 from LG. Its such a pain. Very disappointing because I had wanted it for so long, and its really been nothing but problems since I've gotten it.
4. Coleslaw and Potato Chips. Haha. I went to a cookout for my boyfriend's friend's birthday. It was my first time meeting her, and she didn't know I was a vegetarian, so most of the food has meat in it. I made do with what I have though!
5. Reese's all the way! Actually... I just found a recipe for huge homemade Reese's. I can't wait tot try it!!
Much Love! xoxoxo