Boy, I really need to get some stuff done and give you guys some real things to read! I have just felt super busy the past couple days, and especially working third shift, it feels like it sucks your day away! But I'm working a morning shift today, and I'm sitting here at work in between getting things done. But then at least I have the evening to finish up my acne article (It's almost done!... I hope!) But anyways... as I was checking out my recent blogs, I found this...
Natural Hair Lightener
posted by: Never Growing Old
She has posted some cool information on hair lightening, that I hadn't heard of before! From using lemons, to flowers, to olive oil, to tea, to coffee! Most people, women especially, love to get that sun-bleached look in the summer, so this has some really great tips on how to do that! I hope you check it out!
Tuesday Blog Hops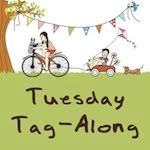 The one blog hop that I joined, the button is not showing up. :( So I went ahead and left it in the post, in case it decides to work, but I wanted to go ahead and add the link, as to not be rude. It was for
Bree Bree's Talkin' Tuesday Link Up
.