Let me tell you what...
I Love February's Must Have box from Pop Sugar
! I actually forgot that I should photograph it for you before I ripped into and started using the products. Oops!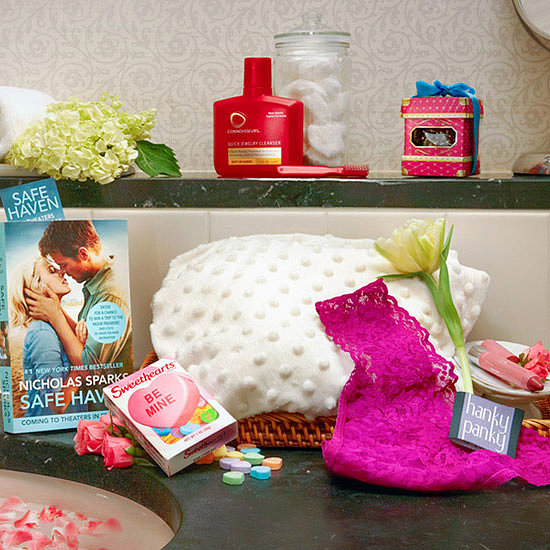 There are actually only a handful of products that really made this worth it to me...
Connoisseurs Quick Jewelry Cleanser/$6: I'm going to be perfectly honest... I completely disregarded this product because I work in a jewelry store. I'll probably give it away to someone.
MarieBelle New York's Trésor Box/NA: I actually haven't tried these yet... but I'm pretty excited to! Who wouldn't be excited about chocolate?!
Safe Haven by Nicholas Sparks/Approx. $7: I don't really read, so I will probably give this book away too. But there is a free song download with it... so I am sure I will use that!
Sweethearts Conversation Hearts/NA: Can you say YUMMY?!
White Spa Wrap by Brokedown (And 15% off coupon)/$84: I have never had any desire to have something like this... I'm not going to lie to you. But now that I have it, I love it! I put it on every morning after drying myself off in the shower. Its a little big, so I still tuck in the corner after velcro... but it works much better than trying to keep a towel on.
Diva Blue Rolled Signature Lace Original Rise Thong by Hanky Panky $20: I actually love this... especially considering its a one-size fits all! They're really comfortable and I never have any lines showing when I wear these. Everything you want in a good thong.
Honey Just Bitten Lip Stain by Revlon/$7.49: I was so excited to see this in my box! I have been wanting to try this and just couldn't bring myself to buy it. Its long lasting and slightly creamy and I just love it. The color "honey" is already a great color that I would have chosen for myself also.
Total Cost:
A minimum of $124.49
Total Savings: $89.49
They also have a referral program, that I would be crazy not to tell you about. When 2 friends use my referral link to sign up, I will receive 1 month free. Then 5 Friends = 3 Months Free; 10 Friends = 6 Months Free.
Enter REFER5 into the coupon code box to receive $5 off your first box!